At just about $200, the Tippmann Cronus is an excellent mechanical paintball gun that is a favorite with thousands, probably even millions of paintball players out there. What makes this gun really great is that the $199 price often includes a complete package of accessories that can get you started with paintball.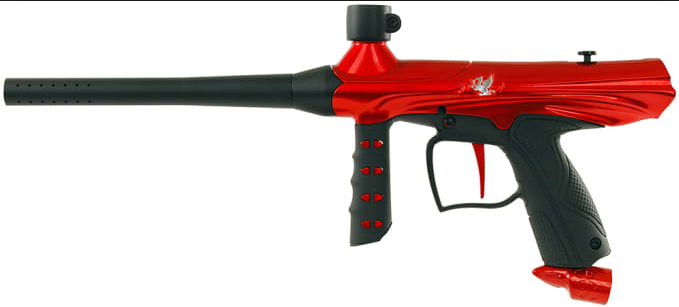 Some of the included accessories are a CO2 tank, a harness to hold your pods, 6 paintball pods that can hold hundreds of paintballs and other accessories like an extension hose to connect your gun to your tank, so you don't have to use the butt of the gun to affix the tank, making the gun very heavy. The price also includes a red dot aimer, an incredible accessory to have if you like to take down your opponents from medium range.
The package also includes a gravity fed loader that can store up to 200 paintballs, enough for a few rounds of intense paintball.
Tippmann has always been an excellent brand when it comes to paintball products. They stand behind their products and provide exceptional guarantee protection for all their products. It is no different with the Cronus. The color of the gun is also very attractive, with a nice tan color. The grips use a soft rubber molding that are both soft and durable, providing a very sure grip with slippage. The shroud of the gun has Picatinny rails that will allow you to mount accessories of your choice. You can install sights, a camera or whatever other accessory that can go on a Picatinny rail.
The Tippmann Cronus is an extremely reliable gun and will keep functioning even if you take a tumble with it, crawl through mud or bump into teammates or opponents or barriers on the paintball field. It is built to last and has fantastic accuracy. Because it is so popular, it has a ton of accessories available for it as well. You can easily call this one of the best beginner paintball gun models out there today.